iPhoto is a system-attached picture management application for Mac OS X 10.1 to 10.10 which empowers users to import photos from digital cameras, USB drive, hard drive and other storage devices as well as organize, edit and share photos. It is replaced by Photos from OS X Yesomite 10.10.3. The new photo app is easier-to-use simplifying editing tools and integrates iCloud Photo Library for photo syncing from iDevices.
At present, iPhoto still owns a large number of users. iPhoto alternative for Windows turns to be a hot search for various reasons. One case like below:
"I can transfer everything from my old Mac to new Windows PC EXCEPT iPhoto. I've got thousands of photos, probably 100 albums sorted out in iPhoto. I've looked before but have never found a Windows based application that does similar photo management and organization. Does anyone have a suggestion?"
Here, we will round up the best 3 iPhoto alternatives for Windows (10) PC in 2016-2017 helping you manage photos with ease.
#1 iPhoto Alternative for Windows (10) – Adobe Photoshop Lightroom
Adobe Photoshop Ligthroom is designed as a professional picture organizer running on Windows and Mac. From version 6.4, it can compatible with Windows 10. And, the latest version 6.7 was available in September 2016 with the support of latest macOS Sierra.
Like iPhoto, Adobe Lightroom features viewing, managing and editing pictures in diverse formats, like common PNG, JPG, PSD and even camera raw formats. The built-in library is the place for image organization which enables you to import/export images, classify images into collections by metadata and more. If you wanna produce a better-looking photo, please move to Develop module. A bunch of tools can help you enhance pictures. Apart from basically cropping and straightening, tonal adjustments such as white balance, color saturation, tonal scale, exposure, clarity, brightness and so on are available. In addition, you can customize sharpness, reduce noise and remove red-eye for your photos. Additionally, it allows you to create photobooks/slideshow, print images and sync photos between your devices with Lightroom mobile app.
The abundant features make it top on the iPhoto alternative for Windows list. And, you need to pay $9.99/month for experiencing full version for this image organizer for PC.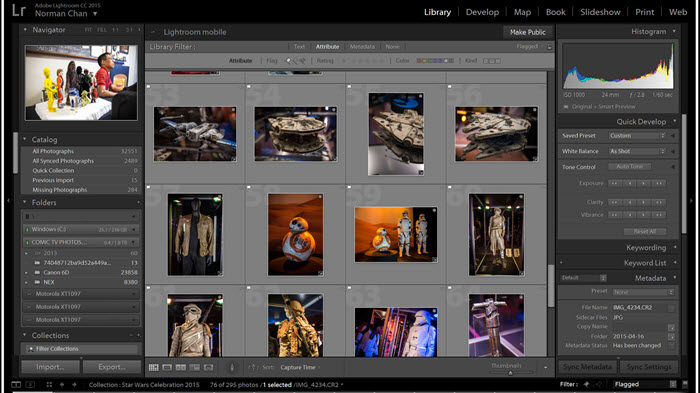 #2 iPhoto Alternative for Windows (10) – Google Photos
Unlike desktop software, Google Photos is a cloud-based photo sharing service available on web, iOS/Android devices. It derives from Picasa, which is discontinued developing in March 2016 and the application Picasa Web Albums was retired two months later.
Although Google Photos mainly aims to back up photos and help access any photo across various platforms, computer, phone or tablet, it is qualified to be one of the best iPhoto alternatives for Windows because it integrates powerful image organizing and editing tools allowing users to manage uploaded pictures with ease. You can easily import pictures from hard drive or other storage devices to Google Photos and create a new album for gathering picture with same theme (for example travel) together. You are allowed to adjust aspect ratio, crop, rotate pictures, reassign value of light, color, vignette and apply color filters for pictures. Every image can be shared to Google+, Facebook and Twitter.
As a web service, Google Photos can be used on computers running on any operation system, Windows, Mac, Linux. It's completely free to use but turns to be useless without network. Compared with iPhoto and Adobe Photoshop Lightroom, it offers simpler editing functions which probably cannot meet requirements of advanced users.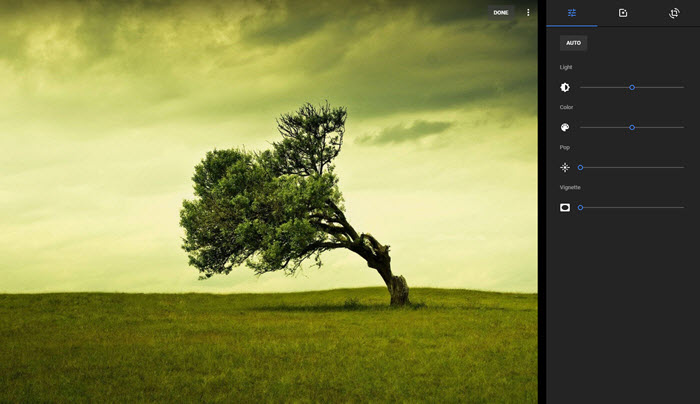 #3 iPhoto Alternative for Windows (10) – Windows Photo Gallery
As other iPhoto alternatives for PC, Windows Photo Gallery is a photo manager app collected in Windows Essentials software suite available for Windows 7/8/10. However, a bad news had been announced that Windows Photo Gallery will stop supporting after January 10, 2017.
Windows Photo Gallery focuses on photos management and editing. It embeds a photo import tool enabling you to get images off camera onto computer. And the image viewer help you check any picture stored on hard drive or devices connected to computer. Windows Photo Gallery works great on photo tagging and allows you to add titles, rating and captions in order to get better organized images. Apart from basic editing functions, like resizing, cropping, ratting, red-eye reduction, it can help adjust exposure, shadows, highlight, sharpness as well as remove blemish and reduce noise for pictures. It also gives you an opportunity to share pretty photos to OneDrive, Flickr and Facebook. Windows Photo Gallery supports many photo formats, JPEG, PNG, BMP, Gif etc, but cannot handle camera raw files.
Windows Photo Gallery is free for download on Windows PC. General users can be satisfied with basic editing and sharing options while some users still hope more improvements on effects. Tip: Windows 10 pushed out Photos app available to view, import, edit and sync images which can be a replacement of Windows Photo Gallery after the retirement.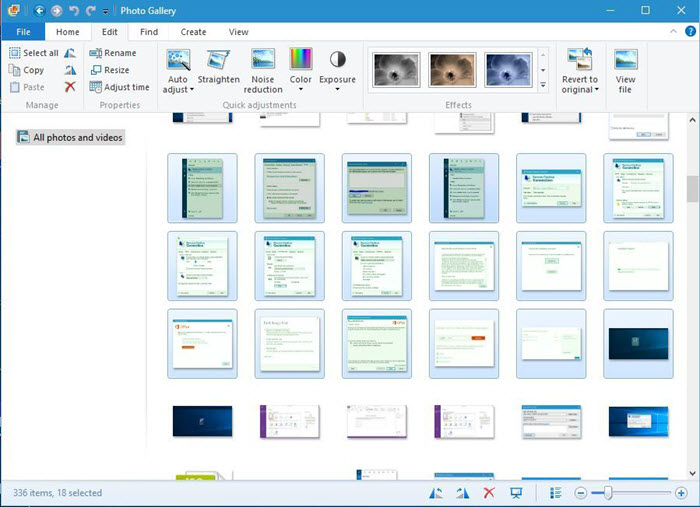 Bootom Line: All above top 3 iPhoto alternatives for Windows (10) can help you achieve photo organization and adjustment on PC. Adobe Photoshop Lightroom boasts rich editing functions while Google Photos shows an efficient solution for photo syncing. And, Windows Photo Gallery is seemingly the preferred choice for a beginner. Depending on your needs, choose the best one for you!
For more: https://www.winxdvd.com/ios-android-mobile/top-3-iphoto-alternatives-for-windows.htm