Brilliant and exotic foreign films are appealed to cinephiles. Regular release of lots of foreign films is seemingly uncommon but it is easy to get them on DVD discs through online shopping. The only trouble is region code which is employed by DVDs to only allow owners to play discs on a DVD player that has the same region code. What you should do to play a foreign film on disc is to change DVD region code.
What Is DVD Region Code?
Commercial DVDs sold in a specific area are given a region code to lock discs from playback in other regions in order to control the release of DVDs all over the world. At present, there are 8 region codes in use. 1-6 are divided according to geographic regions while 7-8 are additional for special purposes. Almost all DVD movies use region 1-6 codes.
• Region Code 1: Canada, United States, Puerto Rico
• Region Code 2: Europe, Egypt, West Asia, Japan, South Africa, Greenland, French Guiana
• Region Code 3: Southeast Asia, South Korea, Taiwan, HongKong, Macau
• Region Code 4: Latin America, Oceania
• Region Code 5: Africa, Russia, Central Asia, South Asia, Mongolia, North Korea
• Region Code 6: Mainland China
• Region Code 7: Reserved for future use.
• Region Code 8: International venues such as aircraft, spacecraft.
How to Change DVD Region Code in Windows/Mac?
Both PC and Mac offer an option to change region code of DVD drive making it have a matching code with DVD. It makes easy to watch a foreign movie DVD on computer. Now, let's follow the guides to change region code on DVD disc in Windows and Mac.
1. For Windows
• Open File Explorer and find DVD drive.
• Right-click the DVD drive and move to Properties.
• Click Hardware tab and select the DVD drive. Hit Properties button in Device Properties panel.
• Click DVD Region tab and choose a geographic area. Click OK.
2. For Mac
The region code of DVD drive on Mac will be automatically set as the DVD you play at the first time. Once you insert a DVD with a region code which doesn't match the current region code of DVD drive, it will ask you whether you want to change the region code.
Both Windows and Mac have a limited number – 5 – of DVD region code changes. After you have reached the maximum change, the region code will be kept as the last code you set even if you reinstall operation system.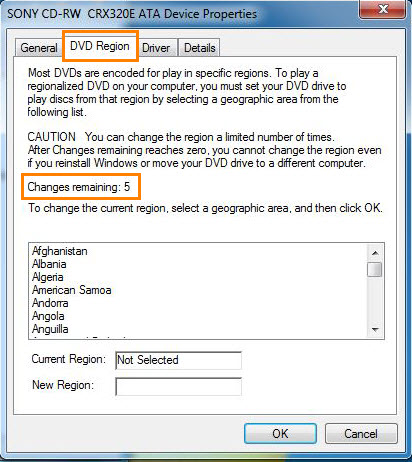 How to Remove Region Code from DVD Permanently
It is highly suggested to remove region code from DVD for playback on any device without any limit with the best free DVD region code killer – WinX DVD Ripper.
WinX DVD Ripper is free DVD ripping software designed to convert a DVD disc to digital file in MP4, WMV, FLV, MOV etc, in a few of clicks. Compared with some other free DVD rippers which can only handle unprotected DVDs, it empowers users to bypass common copy protections on discs, including region code, RCE, CSS, Sony ArccOS and so on. No matter which region code the DVD use, it can make a digital copy accepted by any player and device. The other highlight of WinX DVD Ripper is its fast ripping speed. Only a couple of minutes (depending on your computer configuration), it can convert region-locked DVD to a digital file with region-free. WinX DVD Ripper is a totally safe and clean program bundled no adware, virus or other malicious software.
Download and install WinX DVD Ripper on your computer. Next, follow the steps to remove region code from DVD.


Operation Systems: Windows 10 and lower; macOS Mojave (10.14) and lower
Step 1. Insert the DVD disc locked by region code into DVD drive. Launch WinX DVD Ripper and click DVD Disc button. A dialogue box appears asking you to select disc. Generally, the disc will be automatically detected and checked. After the disc is selected, click OK.
DVD content will be fully imported including titles, audio tracks and subtitle tracks in seconds. WinX DVD Ripper will select main title for later ripping. Otherwise, choose any other title according to your need. You can also select desired audio and subtitle track.
Step 2. Select an output format by clicking "to MP4" or other tabs. Audio and Video Setting panels appear. You are allowed to change audio quality, sample rate, volume and video quality, frame rate, aspect ratio and resolution to achieve better playback effect on player or device.
Step 3. Click Browse button to set an output folder and hit Start button to convert DVD with removal of region code.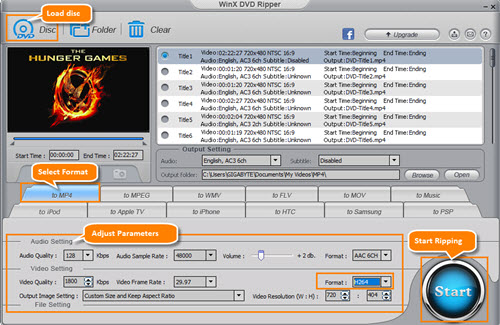 • Disclaimer: Digiarty Software does not advocate ripping copy-protected DVDs for any commercial purpose and suggests referring to DVD copyright laws in your countries before doing so.
Source: https://www.winxdvd.com/resource/change-dvd-region-code.htm